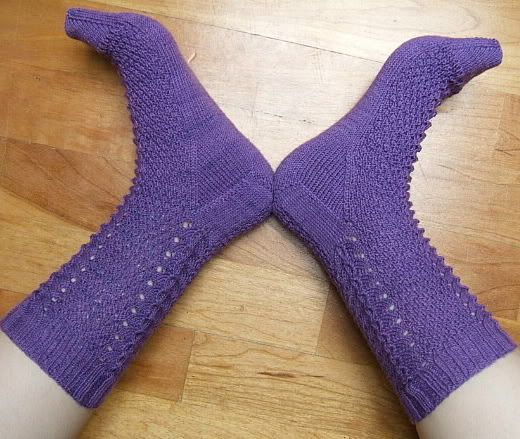 These are the most comfortable pair of socks I've knit for myself thus far, although I wouldn't have known it by the way the pattern looks. It's so stretchy though, and fits perfectly. This project did have it's share of headaches though. I don't think I really blogged about it, but I had to knit the toe on one of the socks 5 times, and twice on the other. This has never happened to me before. Maybe I'm distracted, maybe my row gauge is WAY off, but in the end, I knit 4 extra pattern repeats, didn't knit any of the 4 plain rows before the toe decreases, and now they fit like a dream. Just like that. (BTW, my feet are size 8-1/2, so similarly sized knitters, be
forewarned
.)
Let's take a little closer look at that pattern:
This picture is exactly true to color -- the one above is just a bit dark.
PROJECT SPECS
Pattern: Child's French Sock from Knitting Vintage Socks by Nancy Bush
Yarn: Lorna's Laces in Grapevine
Needles: Susan Bates, aluminum
DPN's
, set of 4
Notes: 5 extra pattern repeats, for a total of 25 from cuff to toe. Did not knit the 4 plain rows between last pattern rep and decreases for toe.
~Faith from
The Needle And The Damage Done