Hi everyone, this is Faith from
The Knitting Cook
podcast. I am an American living in Germany with my husband and three small-fry (3 year old Sparky, 2 year old Max, and 12 day old Baby L, yet to have a
bloggable
nick-name. Check out my blog for
baby naming contest
!).
Mostly, since my time is very precious, I knit small projects like socks and accessories. I also love to spin, although my brand new baby has been making that kind of difficult. This knit-along is a perfect fit for me. I enjoy meeting new people in the fiber arts community, but find most knit-
alongs
to be a little too high pressure for me, since I already have so many demands on my life as a mother. Thank you to
Becca
for posting about this!
I don't know if this counts, but here is a pair of socks that I spun and knit at the beginning of this month, right before my baby was born.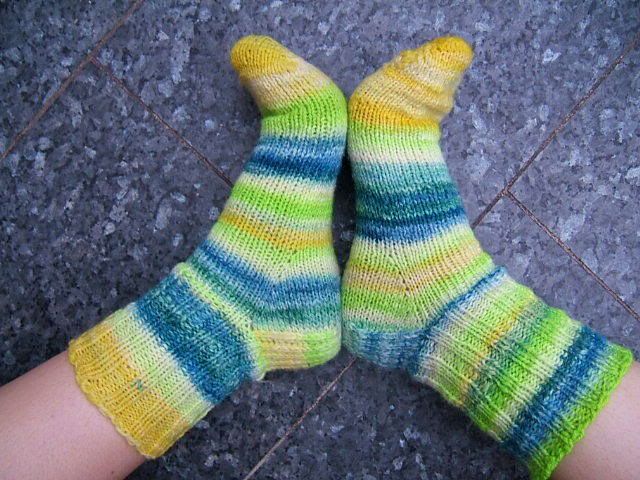 PATTERN SPECS
Pattern:
my own. 40 stitches for foot, increased to 44 on ankle because I wanted to wear them immediately after the birth, when I always get the chills, and my ankles were generously sized at the time. Knit toe up with short-row toe, backwards heel-flap, 2x2 rib on cuff.
Yarn:
my
handspun
Navajo-plied (a 3-ply) Dandy Lion
superwash
merino from
Spunky Eclectic
fiber club.
Approximate
ly sport weight.
Needles:
Size 3 Knit Picks Classic Circulars to get 5 1/2 stitches per inch.
Notes:
These are thick-
ish
, cozy, and soft. I love that the colors are so "spring" yet they're nice and warm for wearing around the house when it's chilly outdoors. This colorway is so cheerful.
Currently, I'm working on the Child's French Socks from Knitting Vintage Socks by Nancy Bush.
~
Faith